Magnesium Chloride
1.Magnesium Chloride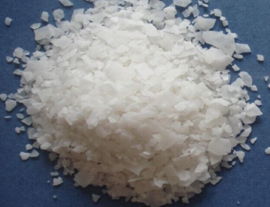 Cas No.: 7786-30-3
Einecs No.:232-094-6
Formula: MgCl2.6H2O
Formula weight:95.21
2.Specification:
| | |
| --- | --- |
| Appearance | White flake |
| Purity | 98%min |
| MgCL2 | 46%min |
| Cl | 34%min |
| SO4 | 0.4%max |
| As | 20ppmmax |
| Pb | 20ppmmax |
| Water insoluble | 0.2%max |
3.PackagingPackaging Details: 25kg, 50kg pp woven bag or according to customer's requirements.
4.Function & Application
Use:There are many industrial uses of magnesium chloride besides its medicinal uses. It is a raw material in the preparation of cement and refrigeration brine. Fireproofing equipment can be made using magnesium chloride due to its non-combustible properties. It is also used in post-treatment for textiles and paper.Perhaps the most common function of magnesium chloride is as a de-icing agent. Magnesium chloride powder is sprinkled on the roads and pavements before the temperature approaches freezing point. This reduces snow formation on the road and improves driving conditions. One more advantage in using magnesium chloride as a de-icing agent is that it does not interfere with underground electric utilities. It is also being controversially used as a dust suppressant on roads and in homes. It is can be used as a flocculation agent in Aquaculture to make water cleaner.
Next:
Manganese Carbonate